Products
PROFESSIONAL INDEMNITY
Covers breach of professional duty, and is available in 4 forms, each tailored to meet the requirements of each sector:
Accountants
Insurance Brokers
Design & Construct
Underwriting Agents
Miscellaneous
Capacity: $10m
 View & download our Professional Indemnity Risk Appetite here PDF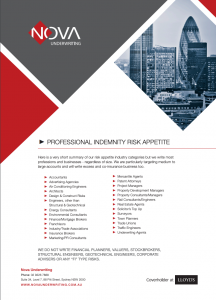 IT LIABILITY
Market leading cover for IT professionals combining professional indemnity with public/ products liability, featuring cover for contractual liability, product recall and breach of privacy.
Capacity: $5m Professional Indemnity + $20m Public/Products Liability
ASSOCIATION LIABILITY WORDING
A complete management liability package for non profit organisations, combining professional indemnity with director's and officer's liability, entity liability, employment practices liability, super trustees liability, fidelity loss and tax audit expenses.
Capacity: $10m
COMMERCIAL CRIME/FIDELITY
A really comprehensive crime cover providing 1st party protection for loss of property [including money] and securities through fraud, including computer and funds transfer fraud, premises and transit cover, counterfeit money orders/cheques or currencies, depositor forgery, PLUS 3rd party cover for claims for libel, malicious falsehood and intellectual property infringement, resulting from internet transmissions.
Capacity: $5m
CYBER LIABILITY
Constantly being reviewed in light of the ever changing threats within the Cyber environment our product has been designed to provide the most up to date comprehensive protection for businesses in the event of a cyber attack or security/privacy breach.
First and third party protection, extending to cyber extortion, multimedia liability, cyber terrorism and business interruption with available coverage options in social engineering fraud, accidental damage and PCI fines & penalties.
Supported by a complete data breach response team offering 24/7 global incident response and access to pre-incident risk management packages.
Capacity: $10m